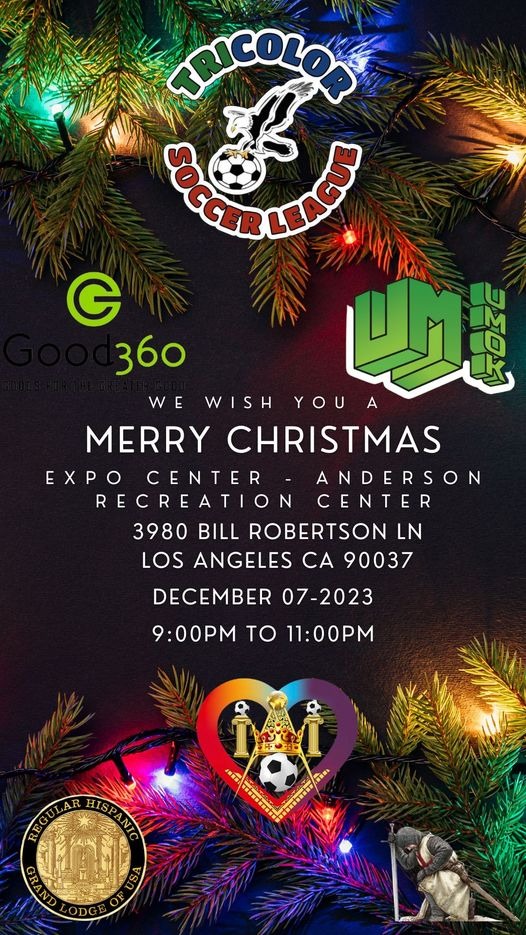 Dear friends of La Liga Tricolor, In this Halloween season, we want to express our heartfelt gratitude for a donation event that has left a mark on our hearts. Your generous contribution of toys has lit up the faces of the little ones in our community and given them an additional reason to celebrate this spooky holiday. Your unwavering support in this toy donation event for Halloween has allowed children of all ages to enjoy a Halloween full of fun and excitement. The joy these gifts have brought to their lives is priceless and has greatly contributed to forging stronger bonds in our community. Your generosity reminds us that the magic of Halloween is not only in costumes and treats but also in the kindness of compassionate hearts like yours. Thank you for being a beacon of hope at this special time of year. We hope you continue to collaborate with us in future events, and that we continue working together to make our community a warmer and more united place. Halloween wouldn't be the same without people like you! Thanks again for your commitment and generosity! With gratitude and appreciation,
For Love to the Humanity
¡Aterrorizantemente agradecidos por tu generosidad en Halloween! Queridos amigos y amigas de La Liga Tricolor, En esta temporada de Halloween, queremos expresar nuestro más sincero agradecimiento por un evento de donación que ha dejado huella en nuestros corazones. Vuestra contribución generosa de juguetes ha iluminado los rostros de los más pequeños de nuestra comunidad y les ha dado una razón adicional para celebrar este día de brujas. Vuestro apoyo inquebrantable en este evento de donación de juguetes para Halloween ha permitido que niños y niñas de todas las edades disfruten de un Halloween lleno de diversión y emoción. La alegría que estos regalos han traído a sus vidas no tiene precio y ha contribuido en gran medida a forjar vínculos más fuertes en nuestra comunidad. Vuestra generosidad nos recuerda que la magia de Halloween no solo se encuentra en los disfraces y las golosinas, sino también en la amabilidad de corazones compasivos como los vuestros. Gracias por ser un faro de esperanza en este momento tan especial del año. Esperamos que sigáis colaborando con nosotros en futuros eventos y que continuemos trabajando juntos para hacer que nuestra comunidad sea un lugar más cálido y unido. ¡Halloween no sería lo mismo sin personas como vosotros! ¡Gracias de nuevo por vuestro compromiso y generosidad! Con gratitud y aprecio,
Por Amor a la Humanidad
A Heartfelt Thank You for a Successful Event: We want to extend our sincerest gratitude to the Tricolor Soccer League, UMOK, and Good360 for making our event an incredibly successful one. Thanks to your generous support and donations, we were able to give away countless gifts that brought joy to our community. We are deeply appreciative of your commitment and contribution to this event, and we look forward to continuing our collaboration in future initiatives. Thank you for making this day truly unforgettable.
For Love to the Humanity
Un Sincero Agradecimiento por un Evento Exitoso: Queremos expresar nuestro más sincero agradecimiento a la Liga de Fútbol Tricolor, UMOK y Good360 por hacer posible un evento increíblemente exitoso. Gracias a su apoyo generoso y donaciones, pudimos regalar innumerables regalos que llenaron de alegría a nuestra comunidad. Estamos profundamente agradecidos por su compromiso y contribución a este evento, y esperamos seguir colaborando juntos en futuras iniciativas. ¡Gracias por hacer que este día sea inolvidable!
Por Amor a la Humanidad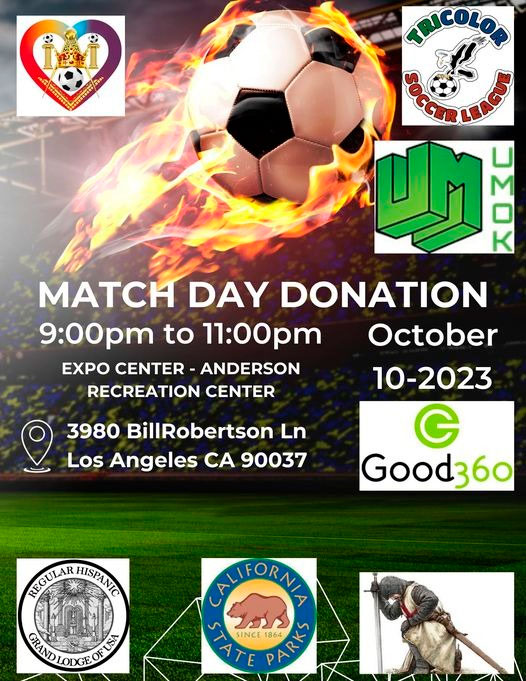 "Gratitude and Unity: Celebrating Paramounts Remarkable Community"
Distinguished brethren and honored guests, I would like to begin by expressing my deepest gratitude to God and the City of Paramount for the privilege of being a part of this remarkable community. Today, surrounded by esteemed individuals and representatives of our authorities, I feel honored and humbled.
Our esteemed organization is dedicated to fostering healthier lives and harmonious communities through soccer. We provide free comprehensive league management software and technological services to underserved areas, aiming to expand participation, promote diversity, and enhance social inclusion. We are proud to have forged a symbiotic bond with our community, promoting integration and holistic well-being. I extend heartfelt recognition and gratitude to the honorable authorities present today: Mayor Isabel Aguayo, Vice Mayor Annette Delgadillo, City Council Members Vilma Cuellar-Stallings, Peggy Lemons, and Brenda Olmos, Spokesperson Gabriela Ballesteros from Assembly member Anthony Rendon s office, Representative Sovanna Pauv from Senator Lena Gonzalez s office, County Supervisor Janice Hahn and Lauren Yokomiso, L.A. County Assessor Jeffry Prang, Barbara Crowson from the Paramount Chamber of Commerce. Your presence exemplifies unwavering support and dedication to our beloved community. This event signifies a new chapter for our organization, an opportunity to fortify collaboration and establish strategic partnerships. With determination, we will continue our mission, offering support to those in need and making a positive impact on our community.
Once again, I sincerely thank everyone present today and all who have joined us on this remarkable journey. Together, we will forge a prosperous, compassionate, and resplendent future for Paramount.
Thank you!